New intercooler and tailpipe!

02-11-2019, 09:52 PM
Teching In
Join Date: Sep 2014
Posts: 6
Likes: 0
Received 0 Likes on 0 Posts

---
Originally Posted by
Atomic
I already knew my intercooler was too small, but I didnt realize how much until my trip to the dyno last week when I was seeing about a 50% loss through the intercooler, which is completely unacceptable. I bought a CXRacing 36x12x4 but it wouldnt be here until this Monday. Well it arrived yesterday and I spent yesterday and this morning putting it in.
Even though they say its 12" high, its actually 13" (15" with the tabs), which required me to cut out out the bottom of the front of the radiator support. It is also twice as heavy as my ebay 3.5" intercooler (30lbs vs 15lbs) and about 6" wider. I welded a piece of steel I drilled to the frame rails so I had something to mount the bottom to. The inlets required some more cutting of the plastic around the headlights and I had to modify the passenger side high beam bulb so I could turn it 90degrees. To make it more fun I had to modify the bumper as well and the bumper brackets on the frame. It looks like the previous owner taped something because the passenger side is 1" closer to the truck than the drive side...
Overall it looks and feels like a much higher quality cooler than the ebay one, and actually wasnt that expensive at $260 (vs $150 for the ebay one). I havent tested it yet, but im hopeful!
Attachment 136673
Attachment 136674
Good pic of how I have my trans cooler and oil cooler...
Attachment 136675
Attachment 136676
Attachment 136677
Attachment 136678
Attachment 136679
Heres my old one for comparison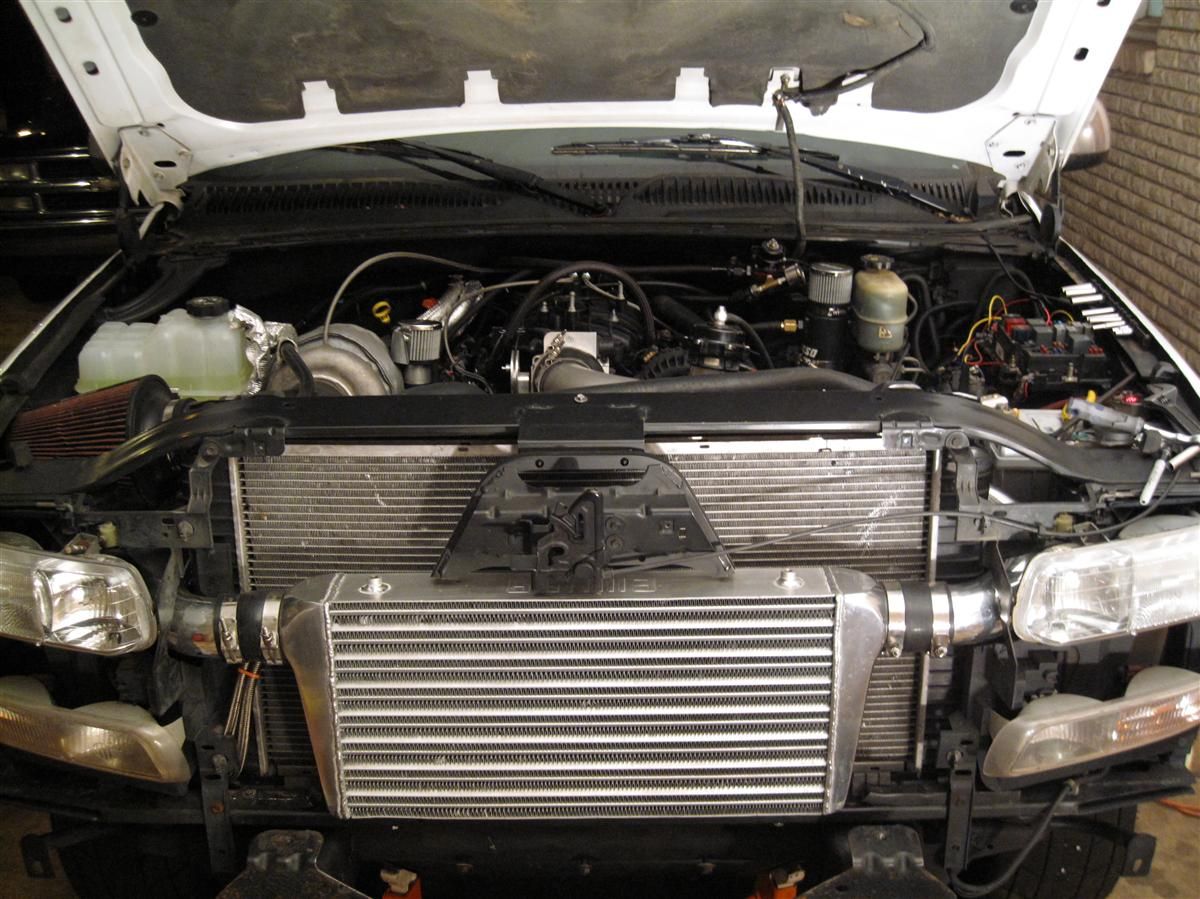 Also after melting a strap on the dyno and already melting through the ebrake cable plastic I needed to make a tailpipe to go over the axle...
Attachment 136680
I had a 4" mandrel bend 180deg piece I wasnt using so I cut it in half and made it into an S shape and make the cuts so it points slightly down after the axle. Im not going to win any welding contests but it should do the job.
atomic...is that the 28 or 34" radiator?
Thread
Thread Starter
Forum
Replies
Last Post
GM Engine & Exhaust Performance
Trucks and SUV Classifieds
Dodge Engine & Exhaust Performance