HID Kit???

12-17-2008, 11:13 AM
TECH Addict
Join Date: Nov 2007
Location: Bakersfield,Ca
Posts: 2,232
Likes: 0

---
first you figure out what bulb u need. i think for your f150 youll need a H13 bi-xeon (meaning yer low and high beams are in one bulb not two) and then you just look around, you can get them from ebay for a decent price, i order all mine from
www.vvme.com
tho

12-18-2008, 05:46 AM
something else
Join Date: Jun 2008
Location: Newark, DE
Posts: 3,727
Likes: 0

---

Many people believe that the higher the color temperature the brighter the lamp. This is totally wrong. The color temperature is purely a scale to measure the color of the light output. It is a reference purely for color and could equally be called White, Green or Blue. The reality is the higher up the scale the lamps are the less bright they become. 5200K lamps are approx 10% brighter (measured in Lumens, not degrees K) than the 7000K. If you want lighting performance the 6000K HID lamps are the best. In our opinion 7000K has the best and most attractive light output.

Degrees K = ONLY COLOR
Lumen= BRIGHT








12-18-2008, 06:04 AM
TECH Fanatic

---
i have 8000K lights, this is how they look....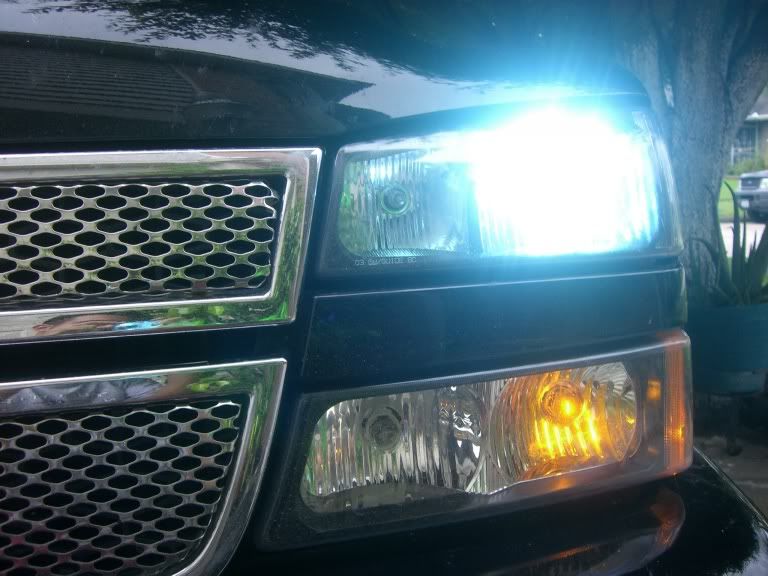 i wouldnt go higher than 8000k...
Chevytruck is correct....... 6000k lights are brighter than 8000k........ 5200k are the temperature they come from the dealers i believe. so the higher temperature, means less light output

12-18-2008, 06:07 AM
TECH Fanatic

---
you could go to a local custom shop to get an HID kit but they will probably charge u up the *** for it. But most shops do offer 1 or 2 year warranty when they install them. Sooo its up to you to decide how much money you want to spend, and if you want to install them by yourself.......... the install is very simple, look at ebay or craigslist for some good deals on HID kits.

09-19-2009, 10:11 PM
Registered User
Join Date: Sep 2009
Posts: 13
Likes: 0
Received 0 Likes on 0 Posts

---
the guy further up above took my response i would've posted. Basically in any science class you should've learned that the bluer the light, the darker the light. so why would anyone want really blue head lights if you can't see as well?
I pulled up next to a blingin' Tahoe tonight at a light and he had prob some 10000K hid's and I was in the Blazer with 5000K hid's and had to point out the difference in light to the wife. Mine LIT UP the road compared to his, lol.
Also, most factories would use around the 5000k to 5300k hid's in their vehicles since that is the brighter light. I have 5000K in the TBSS headlights and fogs, and 6000k in the F150 headlights. Havent done the fogs yet on it.
crappy cell pic:
and the seller I use is on ebay and offers a true plug and play kit cheap.
http://cgi.ebay.com/ebaymotors/ws/eB...K%3AMEWAX%3AIT
though, since I've bought many from him I get them cheaper than the ebay price.
Thread
Thread Starter
Forum
Replies
Last Post
GM Engine & Exhaust Performance
Tuning, Diagnostics, Electronics, and Wiring
Trucks and SUV Classifieds
Trucks and SUV Classifieds